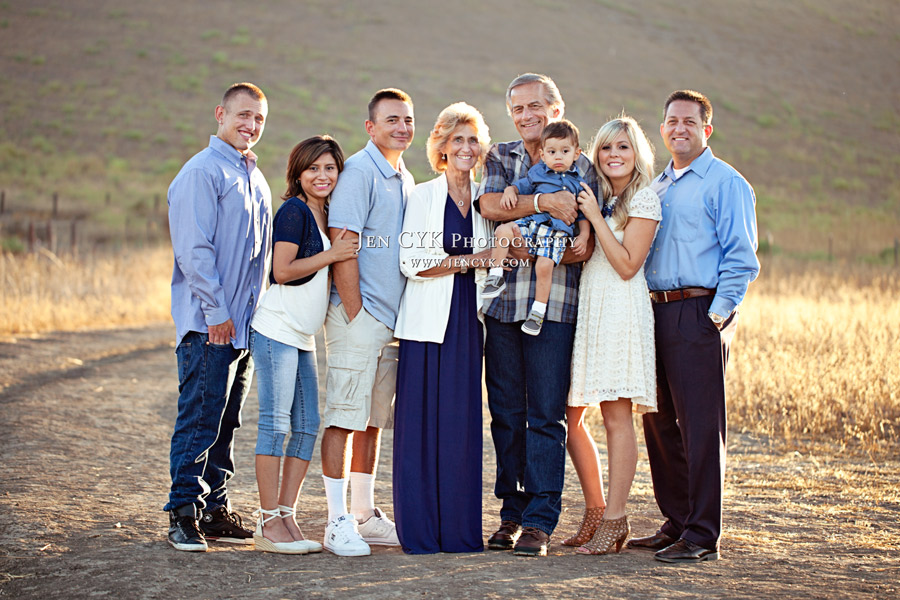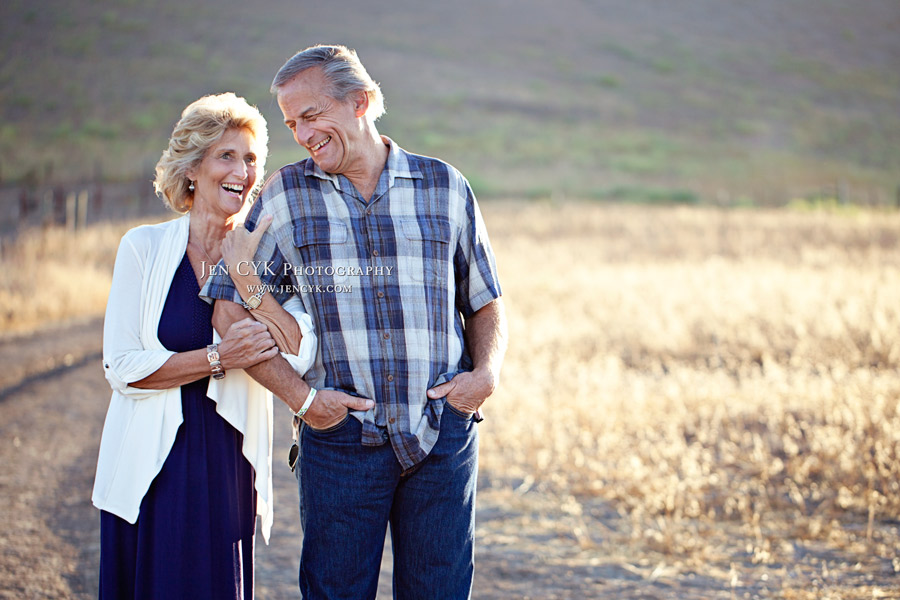 Emily told me she had been Facebook stalking my page for a while. She said that she was excited to have me take their family pictures as soon as the opportunity arose. This was it! Her brother and his family were in town, and it meant a lot to Emily to have these pictures. This family had all got together for pictures before. But usually in a studio, and had never taken advantage of this gorgeous sunlight we get here in Orange County.
So on this summer evening, Emily's whole family made the trek out, looking pretty, smiling and laughing. One of the biggest reasons Emily told me she wanted these pictures, was because her beautiful Step mom, Pam, had terminal cancer. So it was important that they got this group together.
I met Pam two times. First at our photo session. If Emily wouldn't have mentioned anything, I wouldn't have known Pam was sick. She was full of life and happiness that day. She was so easy going, and just carried genuine joy to have everyone together. The next time I met her was at our ordering session, when she got to see the pictures we took. I could tell, they made her so, so happy. And you know who else loved them, her husband Dave. Typically, dads aren't the ones to get excited about our pictures. But these meant a lot to him too. He kept squeezing Pam's hand and smiling at her when then were looking through their pictures. They had a hard time deciding which ones to display in their home, because they loved them all. Ultimately, some of what they picked included a big beautiful canvas of the whole family. And an equally beautiful canvas of just them two. This kind of made my heart melt that day.
I said goodbye to everyone, and Pam told me the most heartfelt thank you. And she hugged me tightly. Now look, I'm not a big hugger. I'm certainly not a tight hugger. But some people, some people just know how to do it right. She hugged me tightly, and it was so warm and genuine. When you know someone is battling a disease that cannot be cured, no matter how little you know them, those moments are ones you won't forget.
Just two weeks after Pam saw these pictures, she went home to be with Jesus. With her family by her side, and her husband holding her hand and praying with her until she took her last breath.
There are never the proper words when someone experiences loss. All I can say is that I had the honor of meeting a very kind and warm woman. And I'm so grateful that I was able to give this family something that will never be forgotten. A day together, and an outcome that they will literally look at forever.
Sending love to this dear family as they celebrate Pam's life this weekend. May they all remember the beautiful moments like these, that they spent with this lovely woman. <3